"Sundays at 5" refers to our series of Choral Evensongs, special concerts and special liturgies, usually held on the first Sunday of each month at 5 p.m. Concerts do break in the summer. We welcome guest choirs, guest organists and other instrumentalists to be a part of these special events and services that are free of charge and open to the public. The Carl Broman Series enables a guest organist to present a full length organ recital each year. Please contact Virginia Bolena, organist/choirmaster, at 540-886-9132 or music@trinitystaunton.org to be added to our snail mail and email lists to receive notification about these special services and events. Donations are the sole support of Sundays at 5 and the Carl Broman Series. Please mail donations to Trinity Church, PO Box 208, Staunton, VA, 24402. Thank you for your generosity.
Click here to view the 2017-2018 Sundays at 5 Concerts and Special Services Brochure
2017-2018 Season
All Concerts are on Sunday evenings at 5pm
September 24
Organ Concert
Concert organist David Jernigan plays a thrilling program of rhythmic and iconic music for organ. The concert will open with Bach's famous "Toccata and Fugue in d minor," played frequently but often overlooked, is a masterwork written by a passionate, 19 year-old genius. Peter Planyavsky's Toccata alla Rhumba comes next, blurring the lines between the sacred and the profane with its exotic dance rhythms and quotation of the German chorale tune, "Nun danket all bringet ehr." Next, Carson Cooman's Three Renaissance Dances give us a modern take on secular music of the Tudor court. The program finishes with chorale preludes from Bach's largest and most complex organ work, ClavierÜbung III, bookended with the grandiose "Prelude and Fugue in E-flat" (the "St. Anne").
November 5
Concert & Evensong for the Feast of All Saints
As we remember the saints who have gone before us, we celebrate their lives with a program of organ music and Choral Evensong. Trinity's organist Virginia Bolena will offer a performance of music by J.S. Bach, Helmut Walcha and a lovely prelude on the tune "Eventide" by C.H.H. Parry. Trinity Choir will sing favorites from the Anglican repertoire including music by Richard Ayleward, Herbert Sumsion, and C.V. Stanford. A reception will follow in McCracken Hall.
December 3
Advent Lessons & Carols
The Season of Advent is a time to prepare ourselves for the coming of Christ. We welcome you to join us for Trinity's traditional candlelight Lessons and Carols service, sung by the Trinity Choirs. An interweaving of Holy Scripture, carols, and choral music, celebrate the coming of our Savior. Music by Palestrina, William McKie, Peter Warlock, and many more. A festive reception will follow in McCracken Hall.
December 31
Playing of the Merry Organ
Ring in the New Year and continue your Christmas celebration by attending the beloved "Playing of the Merry Organ" Concert. Staunton raised trumpeter Benjamin Fairfield will collaborate with organist Virginia Bolena for this special performance. Music for Trumpet and Organ, choral favorites, and carol singing will round out this joyous celebration.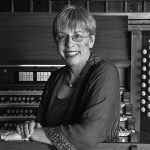 February 18
Carl Broman Series presents Gail Archer, organist
Organist Gail Archer plays a mixed program of Baroque music, American women composers, and Russian pieces from her new CD, A Russian Journey, including Mussorgsky's Night on Bald Mountain. A reception will follow in McCracken Hall.
March 11
Concert & Evensong
Caravanserai is a flexible chamber ensemble from Staunton, Virginia that brings chamber music to a variety of formal and informal settings. The group has three core members (Yi-Ping Chen – oboe, Eleanor Graham – cello, Jessica Embach Jankauskas – viola), but adds or subtracts musicians based on the diverse repertoire being performed, which spans from early Classical period to the newest compositions in print. Concert will be followed by Choral Evensong, sung by the Trinity Choir.
May 20
Dennis Case Memorial Concert: Gloria by Antonio Vivaldi
Longtime Trinity member Dennis Case left a generous bequest to ensure that the music ministry at Trinity continued to thrive and blossom. This year, the Trinity Choir, under the direction of Virginia Bolena, will honor Mr. Case's legacy by performing Antonio Vivaldi's Gloria with orchestra and soloists.