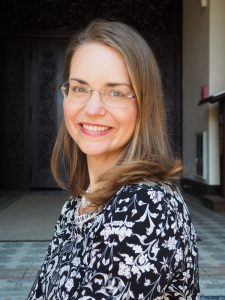 Virginia Bolena, Organist & Choirmaster
Virginia Bolena was appointed Organist & Choirmaster at Trinity Church in February 2013. Prior to this appointment, Ms. Bolena served Christ Church in New Bern, NC where she also conducted Schola Cantorum, the choir of the Episcopal Diocese of East Carolina. Ms. Bolena attended Seton Hill University in Greensburg, PA where she studied with Mr. Edgar Highberger. She received a master's degree with honors in sacred music/organ from East Carolina University, studying with Dr. Janette Fishell. Additional education includes Levels I and II Orff Schulwerk training at George Mason University and annual continued education seminars and workshops.What Virginia loves about church music ministry: "I am passionate about the art of making music – bringing the black and white notes and text on a sheet of paper to life. I love teaching people to sing, encouraging them to strive for excellence and the joy that music brings to those making music and those listening to music. I also love to play and am motivated and inspired by the fabulous instrument at Trinity."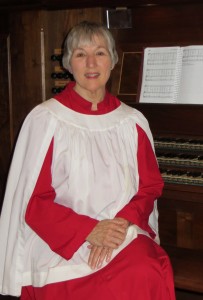 Louise Temple-Rosebrook, Assistant Organist
Louise studied music and science at several institutions, obtaining a BS, MS, and PhD in microbiology and biochemistry. She has a Service Playing Certificate from the American Guild of Organists, of which she is a long-time member. Louise and husband Fritz have been at Trinity for 9 years, during which time she has assisted the music directors as primary accompanist and served as interim organist during two periods. She has served as a part time organist and music director in a number of churches around the country, including a 9-year stint at Gloria Dei Lutheran Church in Madison, NJ, where she oversaw the renovation and expansion of a 1884 Hook and Hastings pipe organ. A similar instrument resides in the living room of their home in Harrisonburg. She is a professor in the Department of Integrated Science & Technology, James Madison University, where she most enjoys doing microbiology research with undergraduate students.
"I have played in churches since I was skilled enough to be the pianist for services as a youngster, so I guess it is in my blood. I love playing the organ and working with the choirs at Trinity because the people and the opportunities for service are both priceless. Having a vibrant, outwardly oriented parish, wonderful leadership, a church that holds music in high value, and a beautiful instrument to support meaningful worship is a rare combination. I'm thrilled to have found Trinity and the people here and thankful to have this opportunity."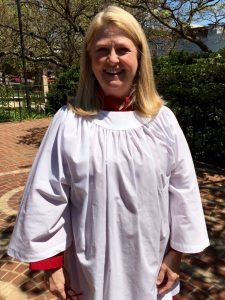 Constance Harrington, Children's Choir Co-Director, Boys & Girls Choir Assistant
Constance has a BA in Art Education and English from Jacksonville State University and an MA in Art Education from the University of Alabama. She has taught Art at both Elementary and High School levels. She also taught Kindergarten for 14 years in Augusta County, retiring at the end of last school year (June 2013.) Constance and her husband Jim moved to Staunton in 1983, and their daughter Kate was born in 1988. She was drawn to Trinity by the choir in 1988 and been in the choir and part of the Trinity community since then.
About serving as the Children's Choir Assistant, Constance says, "Getting to help children in my classes learn through all the arts, visual, musical, movement and dramatic, has been a great privilege and a lot of fun! I've enjoyed my time with the children's choirs at Trinity these past five years. I am really looking forward to using all these interests in helping with the children's and youth choirs this year."
Kristin Reichert, Children's Choir Co-Director, Boys & Girls Choir Assistant
Kristin has a BS in environmental science from the University of Mary Washington, where she also studied literature. She has worked with children and teens in various capacities for many years, including as a counselor and assistant director at summer camps, organizer of youth activities and camps as a Peace Corp Volunteer, counselor at a year-round school camp and most recently as a teacher of science, math and literature at Stuart Hall School in Staunton. She fell in love with choral music and singing in choirs when she joined the Trinity youth choir as a high school student, and has enjoyed singing in the Trinity Choir since graduating from college. She has assisted with the children's and youth choirs for several years, and directed them briefly during an interim between music directors.
"Trinity has an excellent music program in general, but I have always been especially proud of our choirs for our younger singers. They are offered the opportunity to sing such wonderful, high quality music and it is exciting to see (and hear!) them respond with enthusiasm and joy. They learn not only how to read music and how to use their voices to make a beautiful sound, but they learn that they play an important part in leading the worship at each service in which they sing. My experience singing in Trinity's youth choir had a tremendous impact on me, and it is a great pleasure to be able to help bring a similar experience to our current group of young singers."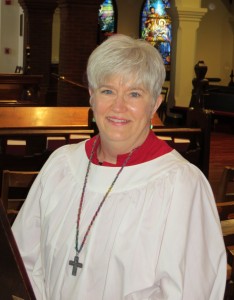 Kay Buchanan, Accompanist, Boys & Girls Choir Assistant
Kay has been singing in choirs since joining the children's choir of her home church in Indiana. She began singing in the Trinity choir in 1992 soon after being confirmed in the church. In addition to getting to sing great music and support the congregation in worship, she enjoys the camaraderie and fellowship with the other choir members. Kay studied piano when growing up and loves to provide piano accompaniment for the various choirs when needed. When helping with youth choirs, she particularly enjoys seeing the excitement of the choristers when a piece they are working on comes together. Kay has a master's degree in occupational therapy from Western Michigan University and has spent most of her professional career working as an occupational therapist. She retired from Woodrow Wilson Rehab Center in 2011 but continues to work there part time, mainly in driver rehabilitation.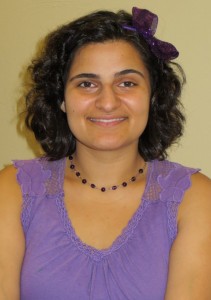 Yulia Buchanan, Music Assistant and Librarian
Yulia recently graduated from Lee High and is currently a student at Blue Ridge Community College. She loves to sing and began singing in Trinity choirs when she was four. She has progressed through all of Trinity's children and youth choirs and now sings in the Adult Choir. Yulia enjoys working at the church where she helps disperse, gather, and manage the many pieces of music used by the choirs. She is also active as a youth group leader with Trinity's young people. When Yulia isn't singing, studying or helping Virginia, she loves to read and exercise.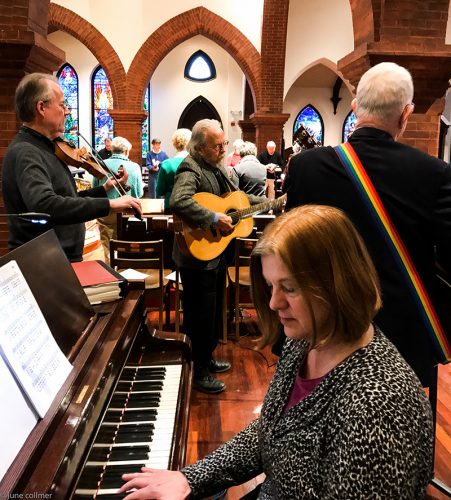 8:45 Sunday Service Ensemble
Steve Carpenter, Glendon Gill, Cindy Hickman, Oakley Pearson, and Bill Wellington
The "Middle or 9:00 am Service" was originated by the Rev. David Pittman in the early 1980's after he and his wife returned from a Cursillo weekend. It was designed to be a less formal folk style service intended to appeal to young families. At first, the music was the same simple songs of praise that were used during the Cursillo weekend. The first musician was Stuart Martin, a high school student who was adept at the guitar. When Stuart left for college, Steve Carpenter, who had also attended Cursillo, and Ted Jordan, who was rumored to be able to play the guitar, were recruited. Soon after, they were joined by David Brown, who not only played guitar and mandolin, but had participated in providing the music during his own Cursillo experience. Ted, David and Steve served as the exclusive musicians for the Middle Service for many years until David moved to accept a new job in the D.C. area. During the time they played together as a trio, they were affectionately referred to as "The Three Amigos", "The Trinity Trio", "The "Three Caballeros" and even the "Yippee Ky Yay Band"! Before David left, he recruited Cindy Hickman to play piano with at the Middle Service, which she has done with amazing grace and patience for all the years since. The group also includes Bill Wellington, a professional musician/ entertainer, who is a talented violinist/ fiddler, and Oakley Pearson, formerly a fill in but now part of the regular ensemble. Ted Jordan passed away in 2016. He is greatly missed! Glendon Gill joined in the group in 2017. His additional talents are most welcome!
Over the last thirty years many different musicians have contributed to the Middle service music on great variety of instruments including flute, recorder, bass, violin, clarinet, piano, marimbas, drums, tambourine and of course guitars. The group now plays mainly hymns from the Hymnal, Rite 2 service music and always tries to provide a lively prelude before the start of the service. They rehearse at 8am on Sunday before the service and always welcome new players.