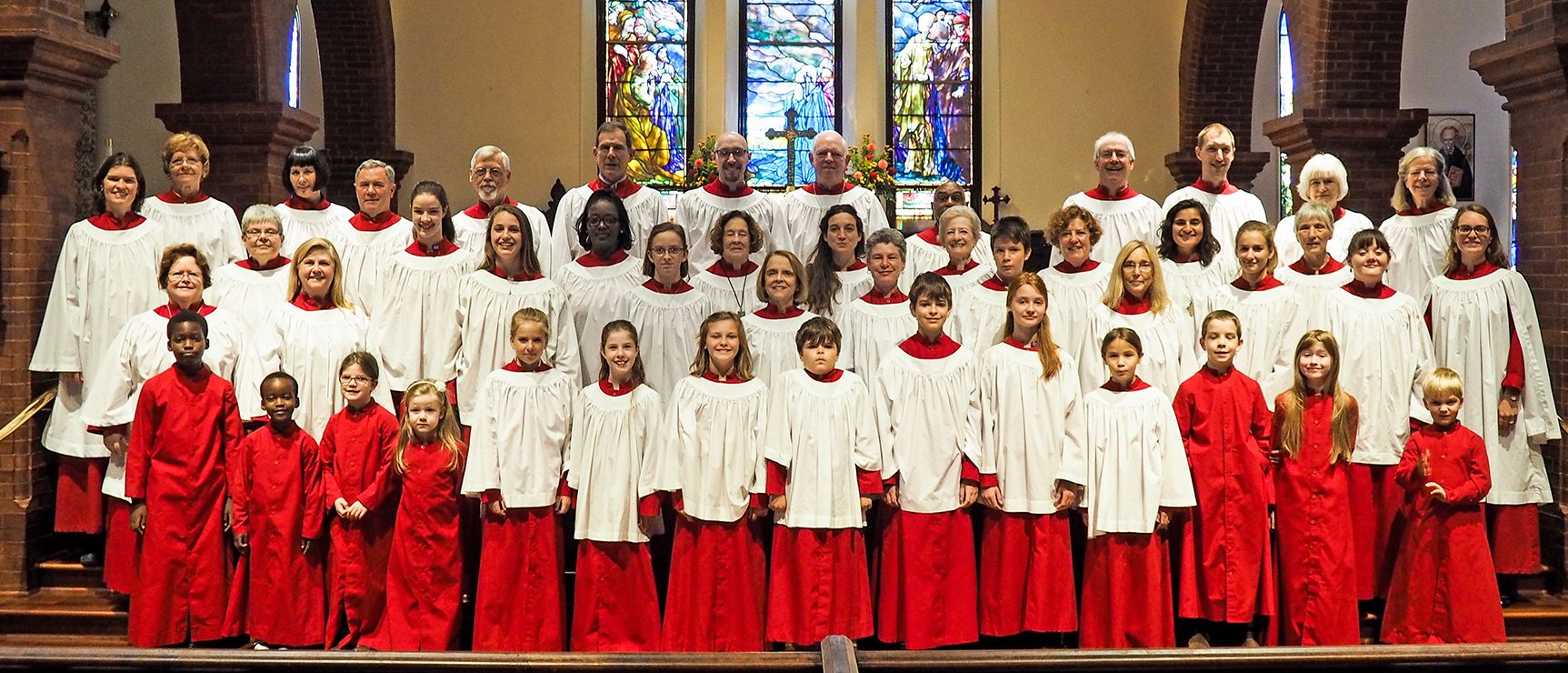 Choir opportunities exist for school-aged children through adults. All Trinity Choirs are under the direction of organist/choirmaster, Gen Bolena, and several talented music assistants. Gen strives to create an educational environment that challenges its singers at all levels, while fostering a community of people who love and care for one another.Although the choirs strive for excellence and work hard, the focus of music at Trinity is to bring the spoken Word to life through singing. Time is devoted in each rehearsal for prayer and a sense of ministry is cultivated and encouraged.
Trinity Choir Recordings
Click here if you have trouble with the embedded player.
Click here if you have trouble with the embedded player.
Children's Choir
The Trinity Children's Choir is for young singers in kindergarten through grade three. Singing games and movement are at the heart of rehearsals. The Children's Choir sings in church about four times per year usually at the 11:00 a.m. liturgy, and is co-directed by Mrs. Constance Harrington and Mrs. Kristin Reichert.
Rehearsals: Tuesdays from 4:00 to 4:40 p.m.
Trinity Boys & Girls Choir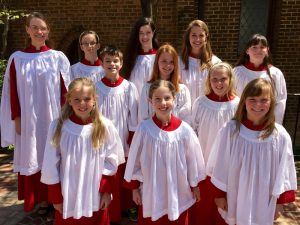 Trinity Boys & Girls Choir, for young people in 4th grade through high school, is open to all young people in the Staunton community and surrounding area regardless of church affiliation. Choristers are taught music literacy, ear training with solfege and how to achieve a beautiful, healthy sound, all while learning excellent sacred music.
This choir sometimes partners with the Choirs at Stuart Hall School and will join together for a Choral Festival in October 2017 with clinician Dr. James Litton. Other singing opportunities are Choral Evensong, Advent Lessons and Carols, Christmas Eve and Christmas Caroling. These choirs are directed by Mrs. Bolena, accompanied by Ms. Kay Buchanan, and assisted by Mrs. Kristin Reichert and Mrs. Constance Harrington.
Rehearsals: Tuesdays from 4:30 to 6:00 p.m.
Trinity Choir
The Trinity Choir sings throughout the year at the 11:00 a.m. Sunday Eucharist (10:00 a.m. in the summer), as well as for services of Evensong and occasional concerts. Membership is open to all interested singers (college age and up) in the parish and community. Previous experience in choirs and the ability to read music are helpful but not required. A good sense of humor and a generous spirit are most welcome!
Rehearsals: Thursdays from 7:00 to 9:00 p.m. and Sundays at 9:45 a.m. (September through Trinity Sunday)
RSCM Voice for Life
Trinity Church is affiliated with the Royal School of Church Music, an ecumenical professional organization "committed to achieving the best use of good music in worship, whatever the resources, whatever the style." The central component of the RSCM's educational mission is its excellent Voice for Life program, which promotes singing in churches, particularly encouraging young people to sing. Children typically begin the Voice for Life program in the 2nd grade and continue through high school, enabling them to become well rounded musicians by the end of their time in youth choir at Trinity Church. In addition to training in the skills of music reading and vocal techniques, choristers are formed in the habits of common prayer and liturgical spirituality through music.