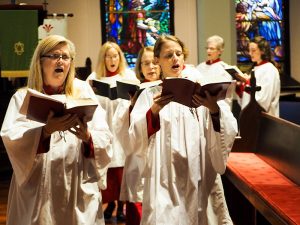 Sunday concerts and Evensongs bring our community together while we worship and enjoy music from so many talented people. This concert series provides an opportunity for reflection and spiritual nourishment.−Brooke Cason
Music is an intrinsic and important part of worship and parish life at Trinity Church. We invite you to join us by becoming a singer in one of our choirs, by offering your talents as an instrumentalist, by adding your name to our mailing list so we may keep you informed about upcoming musical events, or by donating to our music program which supports our concert series entitled Sundays at 5 and the Carl Broman Concert Series. You can also download a PDF of our Trinity Music Brochure.
You may also wish to visit our music photo galleries.
Community concerts are an important part of life at Trinity Church. Guest organists and other musicians play before festive Evensong services throughout the year, as well as offering occasional solo recitals. Trinity Church is also a proud host for various events of the highly acclaimed Staunton Music Festival.
For more information or to be added to our music mailing list, contact Virginia Bolena at music@trinitystaunton.org.
Photo by June Collmer