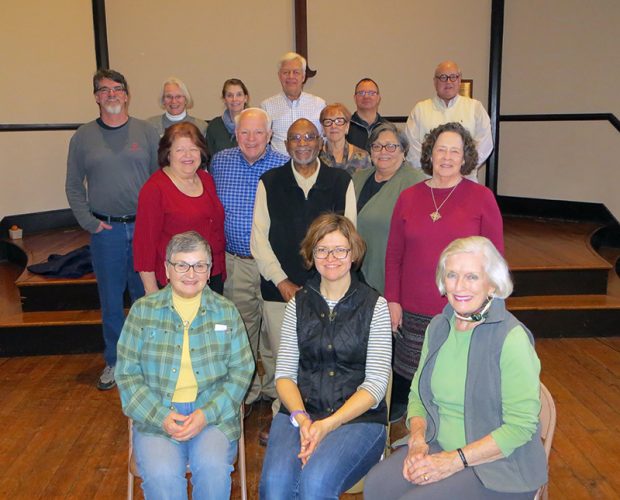 2018 Vestry Pictured
Left to right, back to front: Erik Boody, Betsy Pinkston, Karen Tate, Rick Chittum, Jim Manchester, Hunter Moss, Lilchy Huffman, Frank Babcock, Ernest Holley, Juliette Swenson, Lynn Manka, Sally James, Katie Cathey, Sharlene Richards, and Pat Williams
Not pictured: Molly Brown, Richard Obenschain, David Wallace
Current Vestry
Rector: Paul Nancarrow
Senior Warden: Ernest Holley
Junior Warden: Erik Boody
Treasurer: Tom Fechtel, Jr.
Clerk: Laurie Clements
Term expires 12/31/2018
Erik Boody
Molly Brown
Ernest Holley
Jim Manchester
Sharlene Richards
Pat Williams
David Wallace
Term expires 12/31/2019
Rick Chittum
Hunter Moss
Richard Obenschain
Juliette Swenson
Karen Tate
Term expires 12/31/2020
Frank Babcock
Katie Cathey
Lilchy Huffman
Sally James
Lynn Manka
Betsy Pinkston

About Vestry Officers

Senior Warden. The Senior Warden is the "rector's warden," who assists and advises the rector principally in the areas of leadership, administration, finance, and personnel.
Junior Warden. The Junior Warden is the "parish warden," who oversees matters of buildings, grounds, maintenance, and improvements, working closely with the Property Committee.
Treasurer. The Treasurer works with the staff Parish Administrator, to oversee the financial health and activity of the parish.
Clerk. The Clerk is the "secretary" of the Vestry, who takes minutes at meetings and manages Vestry correspondence.
The officers meet regularly with the rector to plan agendas for Vestry meetings, to address issues in the parish, and to consult on the development and mission of the congregation.