Check out our events photo gallery!
Episcopal Church Women – The "Women's Society" of the Episcopal Church was authorized in 1871, and worked primarily to fund women who had dedicated their lives to missions. Today, the women's society is known as the Episcopal Church Women (ECW). This national organization includes ALL women in the church and supports the women's mission and ministry worldwide.
Trinity Church continues to support the efforts of the National ECW under the leadership of our ECW Advisory Board. New members of the ECW Advisory Board are nominated yearly by the current board. Members serve a three year term and elected officers include a President, Vice-President, Treasurer, Secretary, and Spiritual Leader. Meetings are held on the second Tuesday of the months of September through June, 10:30 a.m. in the Gooch Room.
Mission: Episcopal Church Women of Trinity Church is dedicated to all women of the parish to enhance our personal and spiritual development; our concern for the community through prayer, education, and joyful service; and our commitment to God through Jesus Christ.
Our focus is to continue fundraising for the National Episcopal United Thank Offering (UTO), Trinity Noon Lunch Program, and our new commitment to the New Direction's Center, Inc.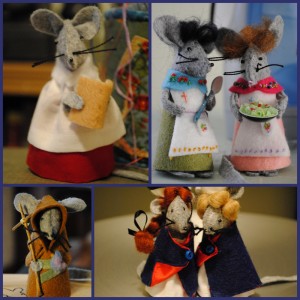 The endeavor of raising funds for charity through the sale of three inch tall, handmade, felt church mice is an Episcopal as well as a Trinity Church tradition. You may special order and purchase mice through the online gift store.
The Mary Artis Dennis Award is presented by the ECW Advisory Board.