NEW Trinity Garden Window Note Cards – $10
Pack of 12 envelopes and cards, 3 of each design (cards are blank inside)

NEW Trinity Christmas Cards – $10
Pack of 12 envelopes and cards, 6 of each design (cards are blank inside)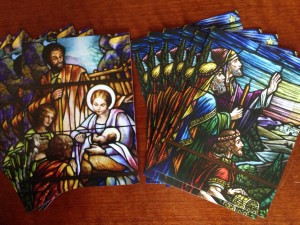 Tiffany Window Note Cards – $5.00
12 note cards and envelopes, 3 of each design
The stained glass windows in Trinity Church were installed one-by-one for over 100 years. They represent a wide variety of church glass decoration styles. Twelve of them, including the triptych that is installed over the altar, are by the Tiffany Studios. Most were given as memorials, some given by the congregation and some by families. The four windows in this note card set are all by the Tiffany Studios: Good Samaritan, Angel with a Script, Ascension triptych, and Archangel Michael. (We also have packs of just the Ascension triptych window.)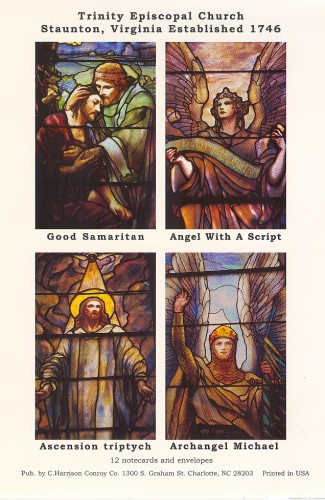 Tiffany Drawing Note Cards – $6.00
10 note cards and envelopes, blank inside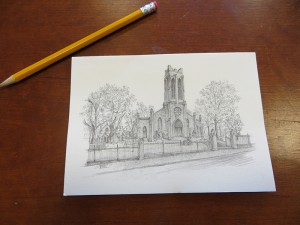 Trinity History Book – $10.00
Trinity Church – Augusta Parish 1746-1996
By Nancy Sorrells, Katharine Brown and Susanne Simmons
Published in celebration of the 250th anniversary of the founding of the Parish, this hardback book is the definitive parish history including extensive descriptions of windows, and biographical information about parish clergy and personalities.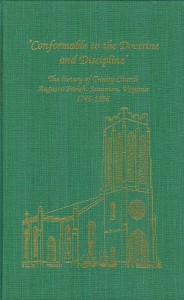 Trinity Church / Augusta Parish Book – $10.00
This softbound large format book is filled with color and black and white pictures of the church, grounds and windows. It was compiled in 2007.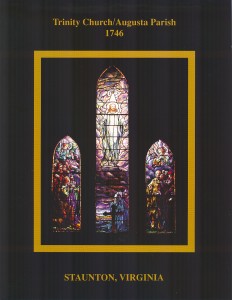 Table Grace Trinity Cookbook – $10.00
A cookbook of favorite recipes from Trinity Episcopal Church. Includes recipes for breakfast, main courses, breads, desserts, and more! Find such recipes as Australian Sticky Date Pudding, Shakespeare Spinach, Betty's Applesauce Muffins, and Cocoa Cake!
Goes to support our Noon Lunch Program!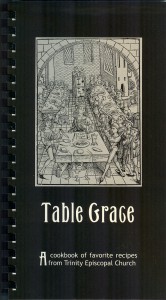 Two Five Oh – $5.00
Sermons celebrating the 250th anniversary of Trinity Church (1746-1996)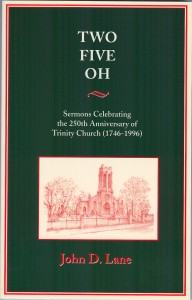 Church Mice Deacon, Lunch Ladies, Angel, or Chorister – $15.00 each
Sold individually. Church mice are approximately 3 inches tall. They are lovingly crafted by our Episcopal Church Women and sold to support various ECW activities including our noon lunch program. Mice will have slight variations.