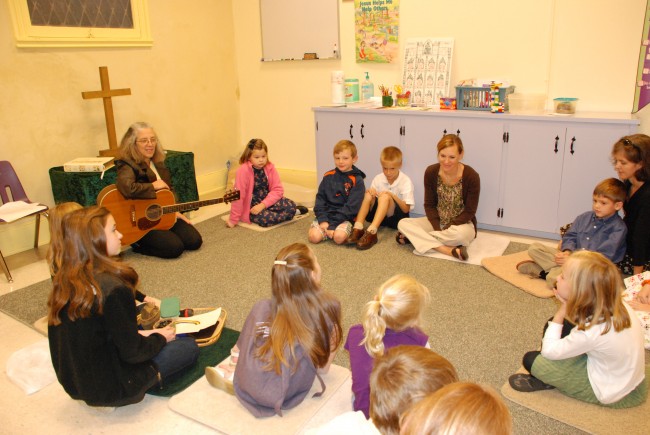 Mission Statement for Trinity Sunday School and Youth Program
To provide a safe and loving environment where children and youth can grow in the Spirit, through learning about the Bible, their Episcopal heritage, and Trinity's unique gifts and resources. To encourage service to others and development of socialization skills. To support our teachers and youth leaders in their mission. To welcome parent participation.
Sunday School
Trinity provides Sunday School classes for all ages of children. Sunday School is from 10:00 to 10:50 on Sunday mornings during the school year.
Bible Study
Trinity offers opportunities for men's and women's Bible Studies on Wednesdays. These are held in the Foster Room in the Parish House behind the church. All are welcome.
Book Discussions – Novel Theology
Meeting on the fourth Tuesday of each month at 7:00 pm in the Foster Room, open to all who have read the book being discussed.
Novel Theology Book List
Trinity College
Small groups form four times a year and meet for six sessions around a particular book, topic, or teaching that encourage fellowship and formation.
Inquirer's Classes and Trinity 101
These classes are for teens and adults looking for information about the Episcopal Church, spiritual formation, and deeper understanding and knowledge of Trinity Church.
Christian Education Committee
The Christian Education Committee meets once a month during the school year to help plan and facilitate new and ongoing educational activities at Trinity such as Sunday School, Contra dances, our Advent Event and more.