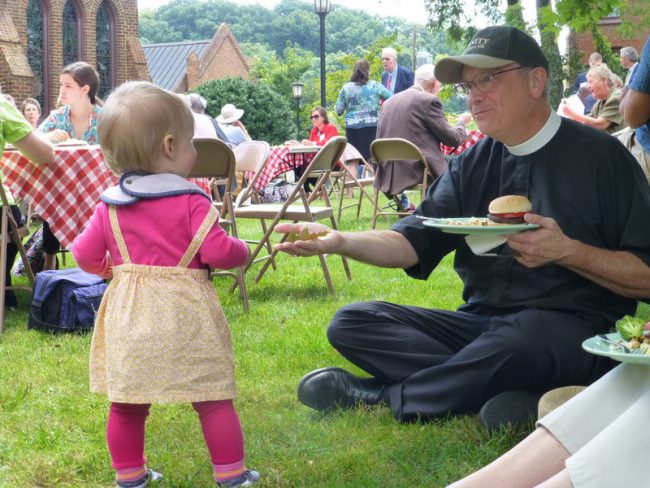 Welcome to Trinity Episcopal Church
We are so glad you are interested in our church. Please let us know if you have any questions or if you would like to know more about becoming a member of Trinity Church. Check out our Youth Activities page if you have children.
Worship and Prayer
We provide different styles of worship and prayer. Sunday services are traditional Episcopal services of Holy Eucharist (communion). During the week, we have simpler services of Morning and Evening Prayer and a Healing Prayer service. Mindfulness Meditation offers a different form of contemplation and spiritual experience. The Taize (Tay-zay) service, is an ecumenical service of chanted songs, meditation and readings by candlelight. You are welcome at all of our services.
What to Expect on Sunday Morning
Sunday service times and descriptions
As do Anglicans world-wide, each in their own language, Episcopalians worship from The Book of Common Prayer. The service consists of Bible readings, preaching, prayers, and the receiving of Holy Communion which all baptized Christians, including children, are invited to do.
Ministering to Those in Need
Each weekday we serve lunch to anyone who stops by to eat. Our Noon Lunch Program is supported by many other churches and organizations in Staunton as well as our parish. Since 2004 we have made annual mission trips to the Copan district of Honduras building churches and offering help for community projects. Find out more on our "feeding the hungry" page.
A Community Center
Trinity provides meeting and performance space for community groups. The Staunton Music Festival uses our facility to hold rehearsals, pre-concert talks and concerts. Alcoholics Anonymous hosts four different meetings here each week. See our calendar for a complete listing of events and meetings.
The Episcopal Church
Joined in prayer, Episcopalians welcome people with different points of view and encourage open dialogue. We share a Christian faith that honors the Bible, the traditions of the Church and God-given human reason. Episcopalians struggle with the same issues that trouble all people of faith: how to interpret an ancient faith for today, how to reach out effectively to those who are in need, and how to disagree with respect. Though the struggles at times seem to be driving us apart, the heart of the Church is a welcome for all and a tolerance for diversity that keeps old traditions growing to new light.