Dear Friends in Christ,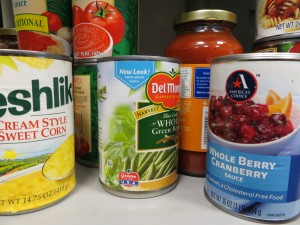 WOW!!!  What an amazing turnout we had this week at Allen Chapel for our program about New Directions and their women's shelter.  At least seventy people showed up laden with food to share and so many items to donate to the women of the shelter.  A truckload of donations!  Thanks be to God for your generosity.
Next Wednesday, March 26, we'll meet at Emmanuel at 6:00pm for our potluck dinner.  Please enter our dining room on the lower level from our Washington Street entrance.  Handicapped parking is available.  Ralph Steger will be talking with us about his volunteer work at the Verona Food Pantry and about the hungry in our community.
We ask that you bring a dish to share and items to donate to local food pantries – Verona, Central Methodist, and Allen Chapel.  I encourage you to bring items that food pantries often don't ask for but certainly appreciate.  The following is a great list I found online, with some additions that Ralph suggested:
1. Spices – because beans and rice without some garlic, onion and cumin just isn't that exciting. Likewise oatmeal with some cinnamon can make a happy start to the day.
2. Feminine Products.
3. Chocolate (such as a chocolate bar or brownie mix)
4. Toiletries.
5. Canned meats and jerky – protein is often a struggle for food insecure families.
6. Crackers and tortillas.
7. Baby toiletries – Diapers, baby wipes, baby formula, baby shampoo, baby soap, baby food, bottles, etc.
8. Soup packets. Sometimes you look at rice, beans, instant potatoes, and cans of vegetable and think, "What do I make with this?" Hearty soup is a complete meal.
9. Socks. From a former homeless person: "Socks mean the world to you. They keep you warm, make you feel like you have something new, and just comfort you."
10. Canned fruit other than pineapple. Food banks get a lot of pineapple donated. Their clients love it when other kinds of fruit are available.
11.  Coffee
12.  Flour, sugar, confectioners or brown sugar, and other baking supplies
We look forward to seeing you next Wednesday at 6 p.m. at Emmanuel!
Emily Cox
Newsletter Editor at Emmanuel