Called, "the best ever" by Haiti's bishop.
Michelle Edwards, Chairperson of the Virginia Haiti Collaborative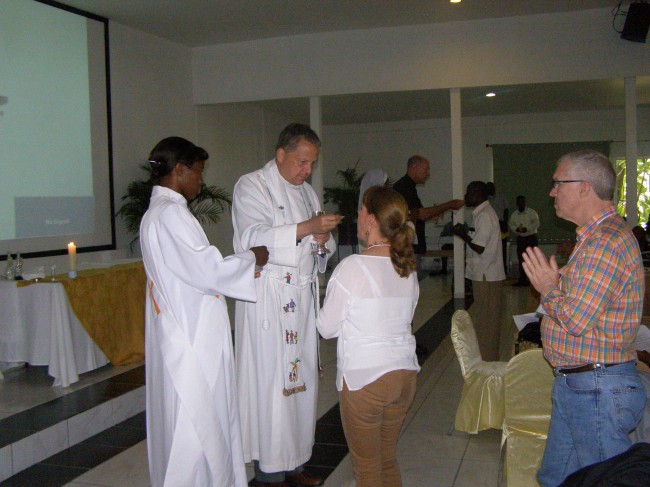 I was very fortunate to travel to Port-au-Prince, Haiti in April to attend the semi-annual Haiti Connection Conference for the Haiti Episcopal Partnership Program.  This conference brought together participants from 25 different states, the District of Columbia, Canada, and Haiti.
More than 270 people attended the opening night's banquet keynoted by the Rt. Rev. Stacy Sauls, CEO of the Episcopal Church. Two groups of children from St. Vincent's Centre for Handicapped Children performed. Earlier a group of musicians from the Holy Trinity Music School preformed as well.   Some of you may remember when Les Petits Chanteurs came to Trinity Staunton to sing for us.  These musicians were from their school.
Breakout sessions on focused on health care, education, community development. The attendees also heard from five different types of partnerships and participated in a final Eucharist together.  The Rev. Roger Bowen of Emmanuel and Trinity Staunton preached at the closing celebration.
There were many experiences to be proud of during this brief visit to the capital of Haiti.  However, what delights me the most is my new understanding of exactly how much good work is being done by the wider Episcopal church in Haiti.   Normally on my visits to Haiti I only see the schools that have partnerships through Father Walin, which is amazing enough!
As a former special education teacher, it gives me immense pleasure to know that the Episcopal church founded and runs the ONLY school for children with disabilities in Haiti called St. Vincents Center for Handicapped Children.   There is also the highly regarded Haiti Episcopal University, and the College St. Pierre, the Episcopal High School in Port-au-Prince.   There are other Episcopal institutions of higher learning in Haiti as well.
Furthermore, the Episcopal church operates more schools than even the Haitian government.  More children are being educated in Episcopal schools than in public schools, and the only larger school system is run by the Catholic church.
Episcopal schools are widely regarded as superior to public schools and even other private schools.    Much of this success is due to the educational partnerships between Haitian and American churches and schools.    The financial, spiritual, and material support provided by American partners to the Haitian Episcopal Churches which run the schools is absolutely vital.
I am thankful to the members of Trinity Church, without whose steadfast support of the partnership with St. Marc's School, 200 children in Cerca-la-Source would not be receiving an education. It's as simple as that.
I am returning to Haiti in June to visit St. Marc's with four members of St. John's, Waynesboro, another member church in our collaborative. We are collecting money to buy school supplies in Port-au-Prince for the students. We are also collecting sturdy, but small toys that do not require batteries to take with us. Please consider a donation of cash for school supplies, or toys such as rubber balls, un-inflated soccer balls, jump ropes, match box cars, packs of cards, or anything else small that won't break easily. There will be a box for this purpose on the pew in the fellowship hall marked, St. Marc's Toys.
Thank you for your generosity.